OS,MB – Concert #3 Le Gesù
ALBUM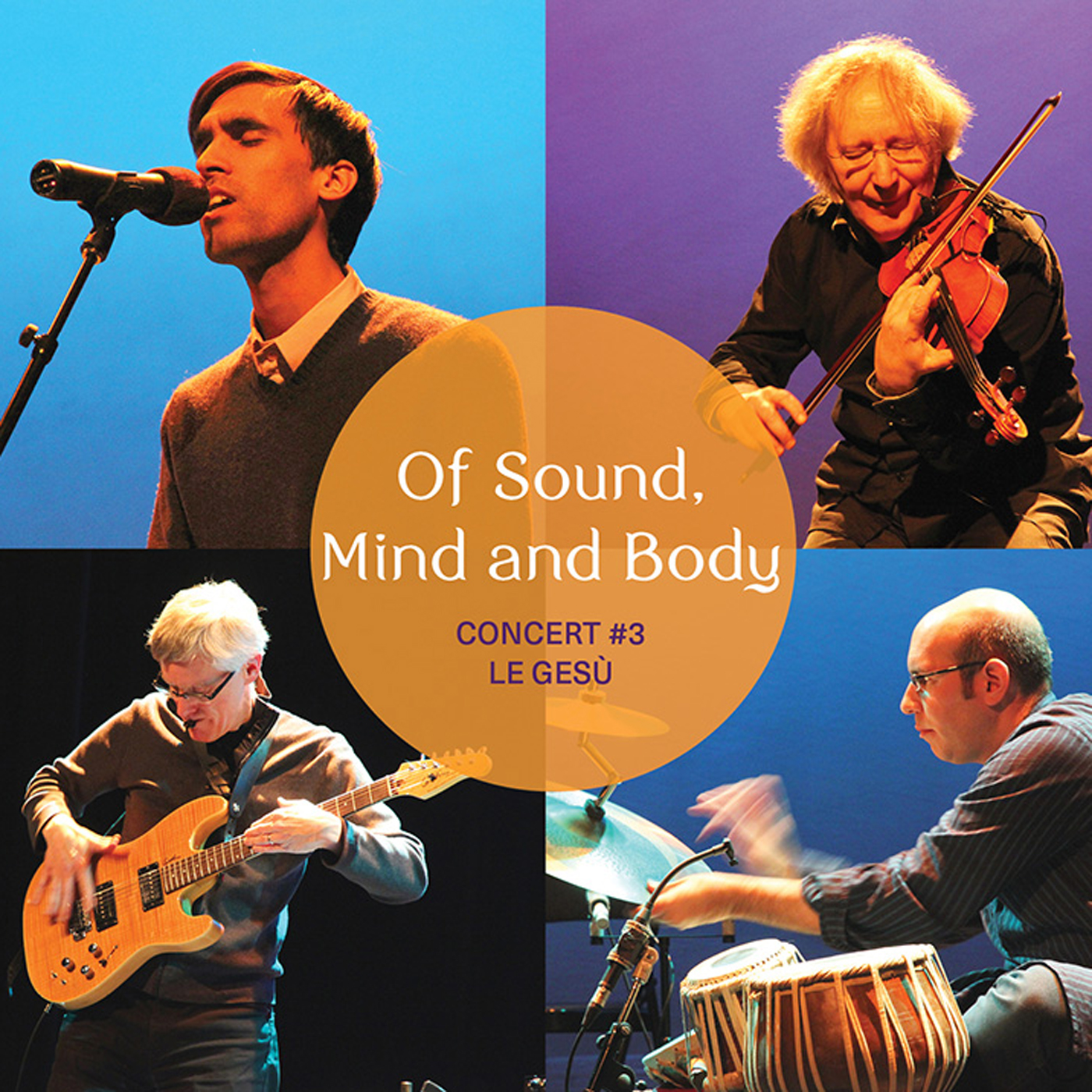 Of Sound, Mind and Body – Concert #3 Le Gesù
Tim Brady, Shawn Mativetsky, Helmut Lipsky, with Gabriel Dharmoo
We have no idea what to call this music.
Improvised chamber music? Spontaneous world music? Jazz meets everything else? Instant collective creation? Four guys listening?
There is only one thing for certain with OS,MB: there are no rules. Any sound, any harmony, any musical gesture – however beautiful or however ugly – is on the table, in real time, at any time. That's all we do.
As a point of departure, our instrumentation creates a cultural collision of sonic resources : North American jazz, blues and rock (electric guitar), a centuries-old Asian improvisational tradition (tabla) and the European classical universe (violon). Add to that our special guest, composer and extended-technique vocalist Gabriel Dharmoo, and the possibilities and references become both exhilarating and bewildering, all at the same time.
What keeps this grounded is the sense of dialogue and desire to communicate. This is not sound as sound, it is sound as performance, sound as human interaction. It is a conversation where the subject is always of sound, mind and body.

Performers: Of Sound, Mind and Body – improvised music ensemble: Tim Brady, electric guitar, electronics; Shawn Mativetsky, tabla, percussion; Helmut Lipsky, violin; with guest Gabriel Dharmoo, voice
Recorded January 25, 2015 live, in concert at the Salle Gesù in Montréal
Recorded by Morris Apelbam, mixed by Tim Brady
Get a copy of Concert #3 Le Gesù from:
Physical: BANDCAMP
Download: BANDCAMP more coming soon…
TRACKS
1. Who Goes There? 10:07
2. Screech and Whisper 10:51
3. Sans Rancune 9:40
4. Offrande 8:00
5. Sighs and Critters 8:55
6. Rue Bleury 10:34
7. Cramp my Style 7:22
TK446 © 2016 Redshift Music
REVIEWS
Dharmoo vocalizes with an imagination and detail that betray deep studies of composition, improvisation, and ethnomusicology. [...] With a very high level of musicianship and sensitive listening, this will surely be one of the year's best improvisatory workouts.
Lawrence Joseph - Musicworks - Summer 2016 ( Issue 125)